Swipe to the left
By Margreet van Muyden
December 20, 2018
305 Views
No comments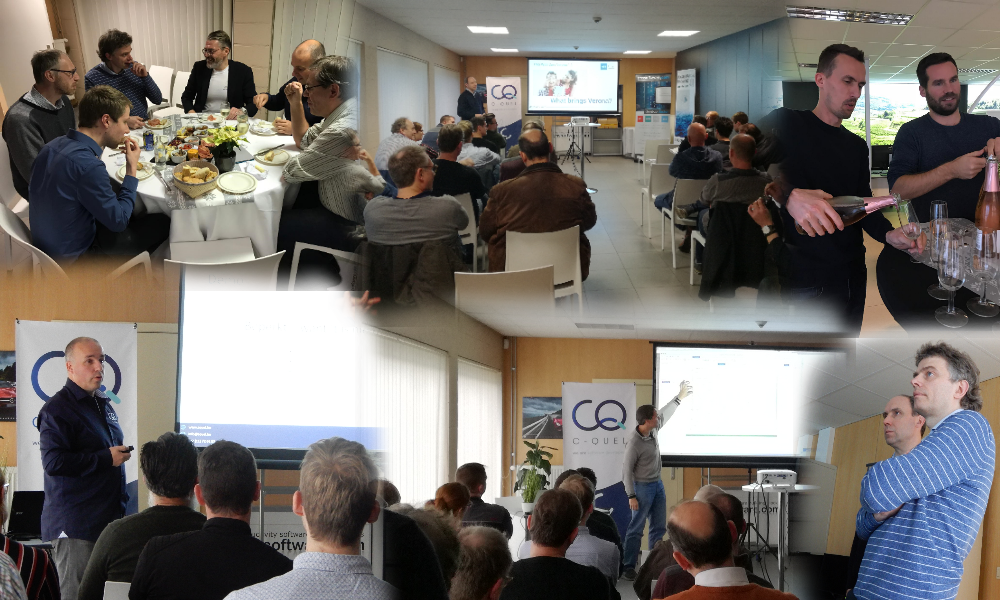 Tuesday Dec 18 we organised again a free meetup for Delphi enthusiasts to learn & see the latest developments for TMS WEB Core here in our offices. We were pleased to see over 30 Delphi developers from Belgium and The Netherlands.
On the agenda, we had:
14h00 – 14h30 : Anonymous methods, Matthias Gaertner
14h30 – 15h00 : Bluetooth, Matthias Gaertner
15h15 – 16h00 : TMS WEB Core use case, Filip Lagrou
16h15 – 17h15 : TMS WEB Core Verona 1.1, Bruno Fierens
The pas2js compiler engineer Matthias Gaertner presented upcoming support for anonymous methods in the pas2js Pascal to JavaScript compiler. We look forward to integrate this new compiler feature in an upcoming TMS WEB Core version and this will definitely make writing code for consuming cloud services a lot cleaner.

The next topic presented by Matthias Gaertner was about the use of bluetooth device communication directly from the browser. Yes, it is amazing that the latest Chrome browser version (and also in development versions of FireFox) there is now the capability to connect & communicate with bluetooth LE devices. This is another big step forward towards making web applications more universal and enable these to control hardware. Matthias Gaertner showed how to write a web application that controlled a small relay board via bluetooth from our beloved Pascal code.
Next was Filip Lagrou, Embarcadero MVP and CEO from our consulting partner company C-Quel. Filip Lagrou showed us how this company uses both TMS FNC componentsto create Windows and Linux client applications using the same code and the same FNC UI controls. Filip Lagrou showed us how the TMS WEB Core technology is now being employed in the first web client projects being rolled out to his customers. The team from C-Quel also showed how RemObjects DataAbstract was used as a backend for a TMS WEB Core application.
The last session was given by Bruno Fierens and focused on the new TMS WEB Core v1.1 Verona features. First, the concept Progressive Web Application was explained. Bruno Fierens showed how this new project type makes it extremely easy to create a Progressive Web Application and attendees were able to experiment with the sample Progressive Web Application from their smartphone while the presentation was going on.
Next, the new accelerator key support and autocompletion edit control were demonstrated. This brings the convenience of keyboard shortcut controlled applications to web or progressive web applications.
Finally, the easiness of PayPal payment integration was demonstrated, first in a standalone small code sample and then as part of a new web shop sample project we created.
The slides from the presentation can be downloaded here
In between the sessions, we also received a big surprise. As the chief editor Detlef Overbeek from the Blaise Pascal magazine was present, he took the opportunity to hand-out the yearly magazine award for our TMS WEB Core / FNC developments. It's clear we were very honored with this award and this unplanned surprise during our meetup event.
After these content-heavy sessions, we took plenty of time to sit together and enjoy tapas and wine. It was great to mingle with Delphi enthusiasts, learn about the fantastic projects each of us are creating with Delphi and brainstorm about future exciting things to do with Delphi.
Do you want to experience a meetup like this again in 2019? Then make sure to leave a comment and share your thoughts with us! More pictures can be found on our Facebook page.
Happy holidays!